Book Fair
Book Fair
13 March 2019 (by admin)
The Scholastic Book Fair is returning to North Borough Junior School on Monday 1st April and will be here until Thursday 4th April. At the last fair, purchased helped raise £460 worth of rewards which we have spent on new sets of Guided Reading books.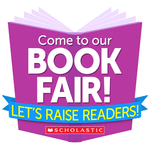 We hope the next fair will be just as successful.
World Book Day £1 tokens can be spent at the book fair and we are also able to offer 3 books for the price of 2 on all full price books. We have requested the Bargain Box to be returned which contains last chance books at low prices.
We hope to see you at the fair!