Jeans for Genes Day
Jeans for Genes Day
16 September 2021 (by admin)
Friday 17th September is Jeans for Genes day.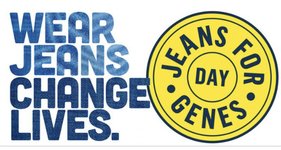 In support of Jeans for Genes day, for a donation of £1 towards the charity, the children can wear jeans to school tomorrow.

The donation should be given to their class teacher in the morning as they come into school
With their jeans the children should still wear their school shoes and school top.
many thanks