Parent's Evening
Parent's Evening
13 October 2021 (by admin)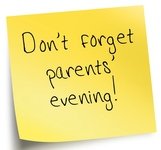 A reminder of the email sent out on 6th October regarding booking appointments for parent's evening. Please see below a copy of the original email.
Parent's evenings this term will take place on Thursday 21st October from 3.30pm - 6.30pm for all classes. There will then be a full day of meetings available on Friday 22nd October for all classes except Harmony class. There will be appointments available on Monday 1st November for Harmony class only.
For these meetings we are able to offer video meetings only. This is to continue to reduce levels of Covid in the school. It is also due to the fact that the work on the middle playground begins on that day and several large vehicles and lots of machinery will be moved onto the school site. I cannot therefore guarantee safe access to the school until the beginning of term 2.
To book a parent's evening/day meeting please visit: https://northborough.schoolcloud.co.uk You will need the details to log in that you gave when your child started at North Borough. If you cannot remember these, or they do not seem to work, please contact the school office and they will help you make an appointment.
If you have any queries or questions please contact me at: headteacher@north-borough.kent.sch.uk