Book Fair
Book Fair
25 November 2021 (by admin)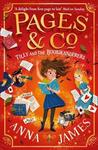 Dear Mums, Dads and Carers,
The Scholastic Book Fair will be open on Monday 29th November - Thursday 2nd December for you to visit with your child after school. All children will have the opportunity to visit the fair to look at the books and stationery on offer during the school day. If you are unable to visit the fair yourself, children can bring in money to buy books at lunchtimes.
This year we would also like to run a 'pay it forward' scheme where families can purchase a book for a child who isn't able to buy one. If you would like to do this, you can either gift some money for staff to select books for children or come to the fair and select a book to gift a child yourself. All donations towards this scheme are very gratefully received.
All purchases at the book fair helps to earn us rewards which we use to replenish the library and classroom book corners. We have a long list of books children would like added to the school collection so every purchase makes this possible.
Mrs Nicholls