Rock Star Day
Rock Star Day
4 January 2019 (by admin)
Both staff and children have been having a great Rock Star Day. Thank you so much for the time and effort that was put into the children's costumes at home.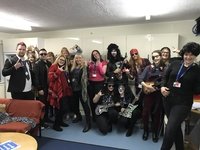 The children will be coming home today with a user name and password for the Times Tables Rock Stars online website. Everything is open for the children to try for the time being. In the next few weeks we will scale this down so that it is more specific for each child.
Take a look at the galleries on the app or website to view photos of our staff in their fabulous costumes. More of the children's winning costumes to follow.