Year 4 Maidstone Care Home Visit - April and May
Every other Thursday we have been visiting Maidstone Care Centre and the children have been involved in activities with the residents, like emoji bingo. Our children have also prepared songs and sang to the residents which they have thoroughly enjoyed. We plan to carry on visiting fortnightly and taking more children to be involved in outdoor games and other exciting activities!
The Climbing Experience Year 3 - March
Year 3 went to The Climbing Experience in Maidstone using some of the school's Sports Premium money.
The children enjoyed climbing on the fun walls using auto belays and free climbing on the bouldering walls.
All the children had an amazing and all said that they would definitely like to go again!
Captain WonderWeb and the Seriously Suspicious Cyber Salesman - February
In this adventure, the crew learn all about internet safety, delivered in a fun and colourful package. Captain Wonderweb is an entertaining show with a crucial message for children growing up in the digital age.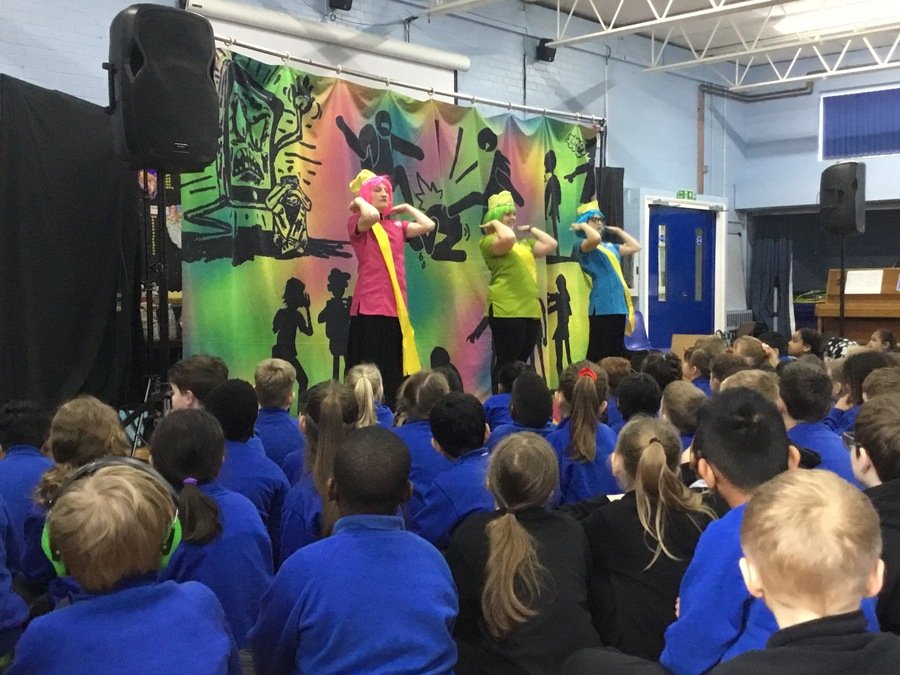 Remembrance Day- November
To mark their respects on Remembrance Day, each class created a Poppy inspired piece of artwork in class.
The school also held a two-minute silence at 11 o'clock, which the children respected impeccably.
In the afternoon, the Service Children at school, along with Staff Sargeant Lee Fantham and Warrant Officer 2 Scott Ottewill, held an assembly. The children shared what Remembrance meant to them and Staff Sargeant Lee Fantham and Warrant Officer 2 Scott Ottewill shared some of their experiences of being in the Armed Forces.
Year 4 Viking Day- October
Year 4 participated in a Viking Day at school linked to their Year group Topic. They learnt more about the life of a Viking, how they made medicine, the tools and weapons they used and war cries!
The children had the opportunity to dress in traditional Viking clothing and wear Viking inspired 'tattoos'.
All the children had a great day and learnt lots too!



Year 6 Knife Angel Trip- September
Year 6 visited the Knife Angel in Maidstone and took part in some anti knife crime workshops at the Hazlitt theatre.
Dogs Trust visit- October
The Dogs Trust came into school and held an assesmbly for the whole school to teach the children about how to behave safely around dogs. Year 3 also had further workshops in the afternoon where they learnt more about how to engage with dogs in public.