SEND
Special Education Needs at North Borough Junior School
Welcome to North Borough Junior School's SEN and Inclusion Department.
Covid- 19 Resources
Please find below a number of resources to support your child at home. Click on the picture below to access the resource.
To help families bring some structure, learning and fun into their daily routine during this difficult time, CYPSP have created a Resource Pack which brings numerous resources and activities together in one place. All are free and are in the public domain.
http://www.cypsp.hscni.net/resource-pack-for-children-young-people/
Here's a link to some great ASC resources
https://www.autism.org.uk/services/helplines/coronavirus/resources/helpful-resources.aspx
Pre-Key Stage 1 Home Learning Activities
Here are some home learning activities for children who are working around EYFS level.
- Sensory activities - Could the children make play-dough, play in shaving foam or experiment with water based activities? www.learning4kids.net/list-of-sensory-play-ideas/
- Fine motor skills (picking things up with tweezers, threading etc.)
- Dot to dots, magic eye puzzles, spot the difference and 'Where's Wally' type activities
- Reading - 'singing hands' have lots of you tube videos of signed stories
- Pattern, number, shape, letter, word hunts in the environment (either at home or on a daily walk)
- LEAPkids on Facebook has got some nice ideas for gross and fine motor activities and how to make some activities
Meet the Inclusion Team

Miss H Slattery - Inclusion Lead (SENCo)/ Pupil Premium Co-ordinator
Mrs J Attaway - SENCo Assistant/ EAL Co-ordinator/ Stonewall Champion
Mrs C Robinson – Family Liaison Officer/ Mental Health Champion
Miss E Taylor - Lead Nurture Practitioner/ Thrive and Thrive Family Practitioner
Mrs J Rose - Speech and Language HLTA
Mrs S Pembroke - Nurture Practitioner
Mrs E Taylor - Nurture Support
What do we do?
The school values the abilities and achievements of all its pupils. We endeavour to provide the best learning opportunities for each pupil, in order to help them achieve their very best. Special Educational Needs are identified early and the school works closely to plan a curriculum to meet the children's needs, this starts in the classroom but may also involve additional interventions to support a pupil's needs.
There is a SEN team led by the SENCo who are here to provide additional support in school to those pupils who may require it. If necessary, we involve outside agencies or further specialist advice and support in order to provide the best outcomes for our pupil's.
We work in partnership with the children, parents, carers, specialists and governors to provide the correct support.
Policies
Click here for our SEND policy.
How to contact us?
Should you wish to speak with a member of our inclusion team please telephone the school office (01622 754708). You can ask to be put through to our SENCo or choose option 3 to speak with our Family Liaison Officer.
Useful Links and Information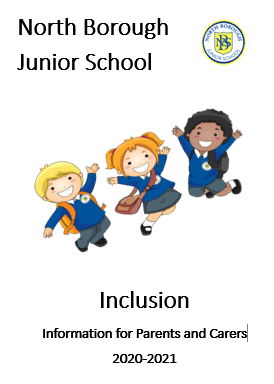 North Borough Inclusion Booklet

Please click here to be directed to Bower Grove's Parent Support Newsletter . You will find details about the parent workshops taking place this term. They are free for parents to attend and you do not need to book.