SEND
Special Education Needs at North Borough Junior School
Welcome to North Borough Junior School's SEND and Inclusion department.
SENCO: Miss H Slattery Email: 8senco@north-borough.kent.sch.uk
Meet the Inclusion Team

Miss H Slattery - Inclusion Lead (SENCo)/ Pupil Premium Co-ordinator/ DSL
Mrs J Attaway - SENCo Assistant/ EAL Co-ordinator/ Stonewall Champion
Mrs C Robinson – Family Liaison Officer/ Mental Health Champion/ DSL
Miss E Taylor - Lead Nurture Practitioner/ Thrive and Thrive Family Practitioner/ Service Champion
Mrs J Rose - Speech and Language HLTA
Mrs E Taylor - Nurture Support/ FRIENDs Practitioner
Our Aim
The school values the abilities and achievements of all its pupils. We endeavour to provide the best learning opportunities for each individual pupil in order to support them to become the best they can be - to reach their full potential.
Special Educational Needs (SEN) are identified early and appropriate action is taken to support the child moving forward. Initially, specific classroom support is implemented depending on the child's need with progress closely monitored by the class teacher. Following this, if no improvement is made, the SEN team will develop a plan of support which can include classroom observations, additional interventions and support from outside agencies in order to provide the best outcomes for our pupils.
We work in partnership with the children, parents, carers, specialists and governors to provide the correct support.
For more information about Inclusion at North Borough, please download our Inclusion booklet below. Here you will find details about interventions we run, how we monitor and track pupil progress, and more information about SEN categories.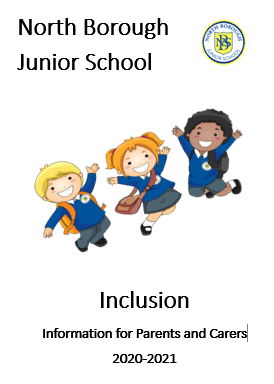 North Borough Inclusion Booklet
How to contact us?
Should you wish to speak with a member of our Inclusion team, please telephone the school office (01622 754708) or send an email directly to Miss Slattery via the email address: 8senco@north-borough.kent.sch.uk.
Local Offer
This link will direct you to the Kent Local Officer for Special Educational Needs and Disability.
Click here for our NBJS local offer.
Useful Links and Information