Home Learning
Home Learning
21 June 2020 (by admin)
As of tomorrow (22/06/2020) home learning will be changing.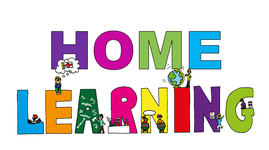 Instead of separate pages for each year group there is a home learning page - in the children tab- that is for the use of children in all year groups. There is a weekly theme and the activities are in a tic-tac-toe grid. We ask that children complete 3 activities in a row through the centre square. Those who complete and email through their work get a 'special surprise email'.
If you wish to complete more activities then you are more than welcome to. There are also links to bonus maths, reading and PE challenges on the page that you can try if you wish.
The link to the year group message boards/padlets can also be found at the bottom of the home learning page.
Our hope is that this change will help to motivate the children and make home learning more manageable for those families with more than one child at home, enabling them to work together on the same activity together.
Important - If at first you cannot see the new home learning page in the tab you may need to logon onto your portal as usual and then click on the 'children' tab again to view the new home learning page. This varies depending on which device you are using.